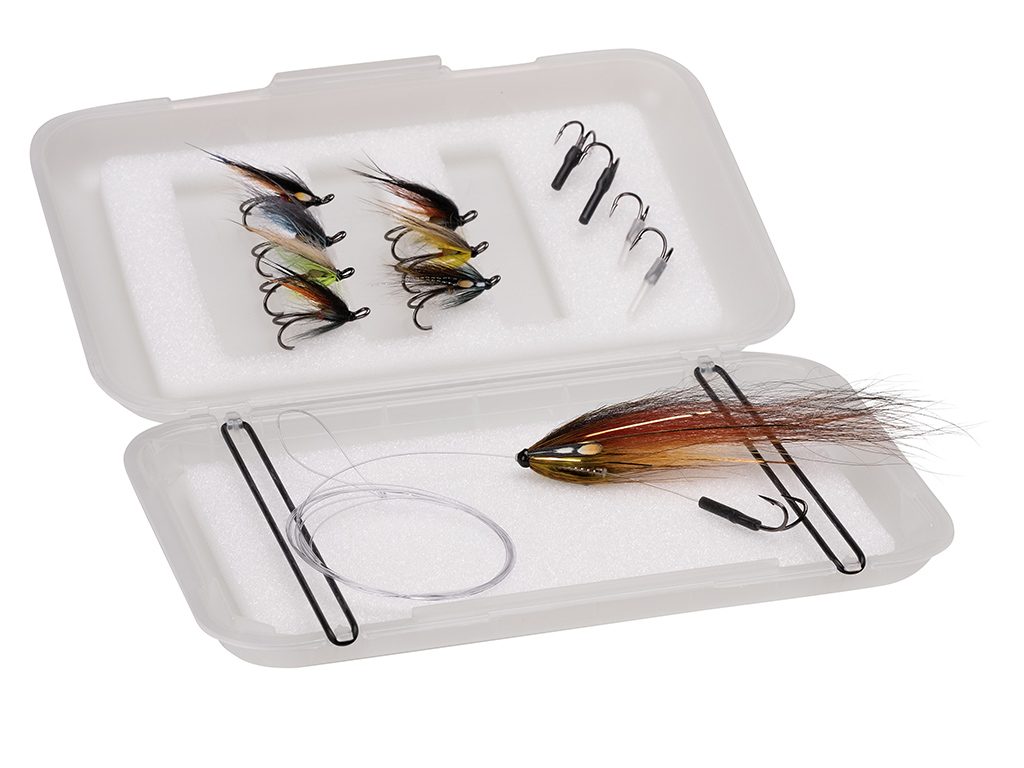 Hook guides are important when fishing with tube flies. Our salmo hook guides are made from ultra strong "high stretch" yet flexible silicone, which makes them last.
When we fish with tube flies, we always fish with our hooks hanging loose, meaning not attached to the tube fly. There are several good reasons for this, but the main reason is that when we fish with a double hook, the hook will turn upside down 95% of the time.  Therefore, it will get attached in the upper part of the fish's mouth. When the fish is hooked here, it very seldom gets away and, even better, it is easy to remove the hook without harming the fish when being released.
The salmo hook guides are available in 2 different lengths; 12 mm and 16 mm. The inner dia. is 1 mm and outer dia. is 2.5 mm. We offer them in two colors – black and clear. We suggest that you pick the color that matches your fly's underwingthe best. The salmo hook guides fit any hooks from sizes #12 to #4.
How to use salmo hook guides:
One end of the hook guide must be slid over the hook eye plus the first 1/3 of the shank. The other end of the hook guide should NOT be fixed on the tube fly, because it will naturally aligne itself with the end of the tube when it is being fished. This allows the fly to swim unhindered and balanced, as it is not being controlled by the angle of the hook.