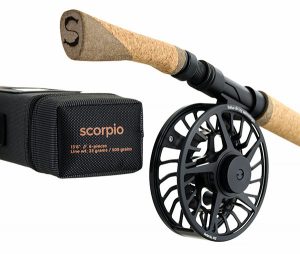 I have always admired how a long line travels through the air when cast the old traditional Scottish way using a long belly line setup. However, I have never liked the effort that was needed to lift a long belly line and cast it. Handling a longer rod the Scandinavian way has always been more efficient and effective with a shooting head system, and especially when it comes down to how the fly is fishing.
With the combination of graphene and carbon, we have succeeded in developing a blank that can cast a shooting head out over the river (just like with the old traditional style with an efficient V-loop), BUT … carried out with a short efficient Scandinavian style stroke, which truly makes it a pleasure to fish the bigger rivers. 
Scorpio 13'6" is a rod where the best of two styles, old style Spey casting and modern Scandinavian style, are integrated to bring out the best in both of them. This rod is very addictive, not only to fish, but also to cast.
Basically, the only difference between the scorpio 13'6" 33 grams/509 grains and the scorpio 14'0" 35 grams/540 grains is the length of the rod and the line weight.
Line and reel recommendation:
All Logic heads – 33 grams/509 grains
Logic RL. 0.034
Salmologic reel size no. 4
Tube length for rod: 78 centimeters