The fluorescent salmo focal point beads are mainly for use on double hooks but can be used on triple- and single hooks as well.
Salmo focal point beads serve two major purposes. They catch the fish's attention, also under low light conditions, and they protect long haired flies from being cut short over time.

The thing that makes fluorescent colours so attention-grabbing is the way they stand out from their surroundings. But they only stand out if you have ultraviolet (UV) light. As long as it is daylight, you will always have some sort of UV light. The stronger the daylight, the easier it is to see objects that are fluorescent. At night, the UV rays do not reach Earth and therefore fluorescent colours do not have any effect at night.
The salmo focal point beads are extremely good to use under low light conditions, or when we are fishing deeper in the river. The reason for this is that the UV rays reach the bottom throughout the day and thereby give our fly a focal point and it will be easier for the fish to notice. Often, we are fishing in misty water or very early morning, or at the end of the day. In situations like those, I believe we have an advantage when using the salmo focal point beads and this is when they should be used. I would not recommend using them in a clear river when we have strong sunlight = strong UV rays, as it will, in my opinion, be too much and it can have the opposite effect. 
Another great effect you achieve from using salmo focal point beads is that your long-haired salmon flies are not being cut short when fishing with them. Placing the salmo focal point beads low on the shank of a double hook prevents the hair being cut between the split of the hooks. It also gives your fly better balance in the current, as the hook has less of a tendency to "hang". 
One thing we should not forget is that the attractiveness of your fly is a combination of many things, including its motion, shape, and colour. We are convinced that the salmo focal point beads fit right in there, when used appropriately.
Salmo focal point – Fuchsia
To be used when it is cold and cloudy, in fall and early spring. Together with flies that are dressed in black, pink, fuchsia, violet or purple colours. These are very typical steelhead colours.
Salmo focal point – Orange
Can be used all year. Work well with flies dressed in orange, brown, black and olive colours. A strong focal point colour for both salmon and sea trout flies.
Salmo focal point – Green
Mainly for use in the early summer months with flies dressed in green, black and olive colours. Works really well in early morning and late evening when there is no sunlight on the water. Great for cloudy summer days.
Salmo focal point – Yellow
From early spring until end the end of fall. Works great with flies dressed in yellow, sunburst and black colours. Should not be used when the water is clear with direct sun on it.
Salmo focal point – Red
An all year colour. Great for flies dressed in orange, brown, sunburst and black. A good choice when fishing deeper in the spring and fall.
---
Salmo focal points are available in four different kits. We have tested the different colour combinations for many years now and have no doubt that they make a difference in our catch rates when used appropriately according to the UV rays.
---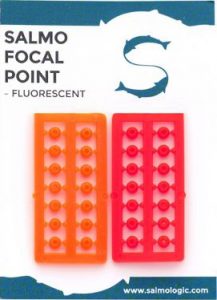 Salmo focal point / sea trout
Red / Orange
---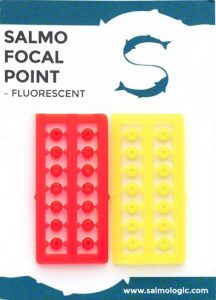 Salmo focal point / salmon 1
Red / Yellow
---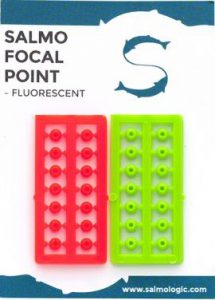 Salmo focal point / salmon 2
Red / Green
---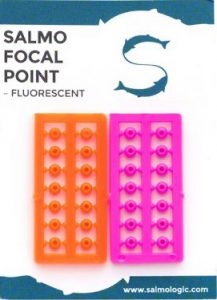 Salmo focal point / steelhead
Fuchsia / Orange
---