Serenity series is our most recent high-end rod series; a series that has been on its way for a very long time. We launched salmologic in June 2014, and our goal was not to be among the best, but to be the best! Our new serenity series is proof that we strive and manage to fulfill our goal. The serenity series is also the first series of rods that bears our newly designed signature grip handle. This is "the" handle we believe is the perfect handle for fly casting and fly fishing.
All the rods in this series are made with a strong bottom, a firm top, and with a flat curve in the middle sections of the blanks – a completely new way of designing and developing fly fishing rods. With the action being designed this way, it gives both the beginner and the avid fly fishermen a huge advantage, as the whole blank will be activated on both shorter and longer casts. When cast, it will always keep the top up no matter if it is a short cast or a distance cast. Every single blank in this series is designed to generate a very high line speed when called for, but without losing precision in the deliverance of the fly – a very difficult combination, but we do feel that we have accomplished the impossible with the serenity series. We are incredibly proud of this design achievement.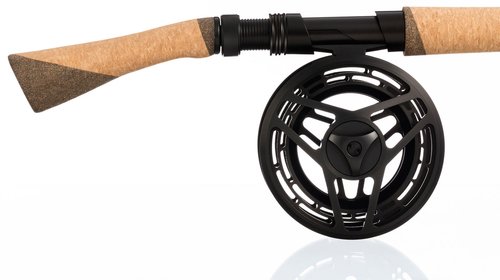 This series is the first series from salmologic that is produced with our new and improved signature grip handle, a handle that helps prevent any twisting of the blank, which therefore gives the user the full benefit of the action in the blanks. The grip handle helps to add both length and precision to the cast, with less energy.
The serenity series is the world's first complete series of fly rods, both single and double hand rods, to be produced with the Japanese Fuji K tangle-free and ultra-light shooting guides. These guides are an outstanding improvement, with the line loops hanging down stream.
The rods in the serenity series are delivered in a black aluminium 2GO case, a cool design that is exclusive to salmologic. It is designed so that the rods can be accessed from either end. This travel case also accommodates not just one, but two rods at once, making it ideal for the traveling fly fisherman.