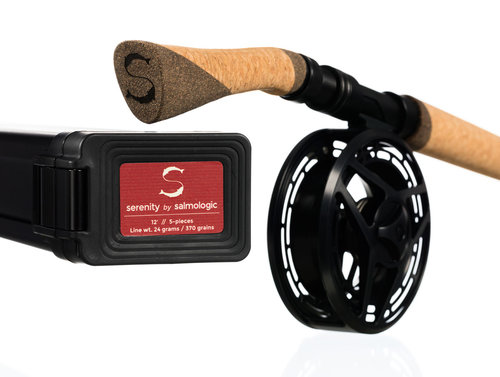 Serenity DH 12' 5-pieces
Line wt. 24 grams/370 grains
On this blank, you can truly feel the blend of new materials used on the serenity series – a blend that reduces the weight in the lower part of the blank but maintains the strength in it. There is no water you can't fish with this rod and it is always traveling with me. This is a very powerful double hand rod that can present smaller tubes and doubles on light lines and long nylon leaders, with outstanding elegance.
And loaded with a Short-cut sinking head at the same time, it can fish deeper pools with slightly bigger flies very efficiently. Yes, this is indeed a rod size/line weight that can pretty much do it all.
Line and reel recommendation:
Logic heads – 24 grams/370 grains
Short-cut heads – 24 grams/370 grains
Logic RL. 0.030
Salmologic reel size no. 3
Tube length for rod: 84 centimeters