Scorpio 12'8" 5-pieces
Line wt. 26 grams/401 grains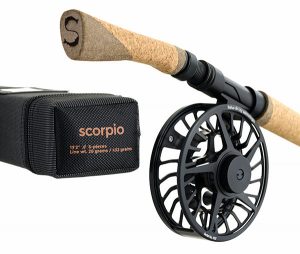 If you want flawless angling on medium salmon rivers, or large rivers in summer conditions, the rod is ideal. It has plenty of power and is simultaneously extremely precise due to the way the blank is dampened when the rod is being stopped. With this particular size, you really feel the full benefits of the graphene and quality carbon combination. It is truly surprising how this rod can handle big fish with impeccable ease – and yes, we actually did try this several times under the final testing.
Line and reel recommendation:
Logic heads – 26 grams/401 grains
Short-cut heads – 26 grams/401 grains
Logic RL. 0.030
Salmologic reel size no. 3
Tube length for rod: 86 centimeters