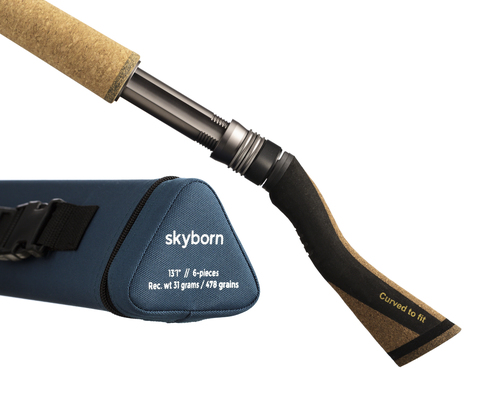 DH rod, 13'1" 6-pieces
Rec. line weight 31 grams/478 grains
This rod is developed as a multi-piece construction, which makes it a perfect travel companion.The 13'1" Skyborn rod is a perfectchoice for salmon fishing inlarge rivers in spring- and early summer conditions. We don't pretend to be magicians, but there is something truly magical happening when you cast this rod. There is almost no effort involved in lifting the line from the water to present a very long cast. This rod has a built-in catapult effect that will surprise even very experienced fly fishers. If you're thinking about a light rod for salmon fishing, you need look no further. This is the one.
Line and reel recommendation:
All Logic heads – 31 grams/478 grains
Logic RL. 0.032 – 0.034
Salmologic reel size no. 4