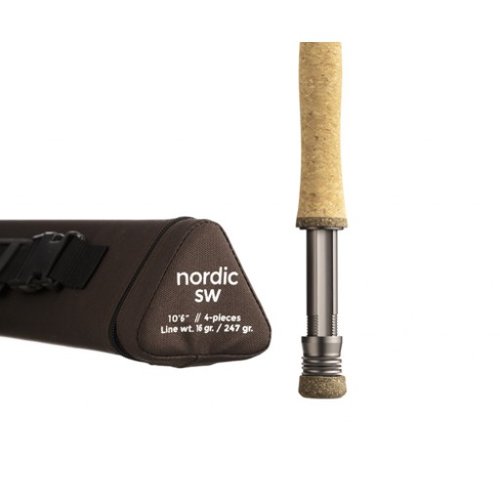 Nordic 10'6" 4-pieces
Line wt. 16 grams/247 grains
The nordic 10'6" is a fantastic single hand fly rod, which can serve the fly with extreme precision and delicacy on the water. The match between the length and the lightness in this rod offers endless opportunities. Loaded with the Short-cut heads, it is a killer tool for smaller streams and light fishing. When we developed this rod, we wanted to make something different; a multi-tool that could be used in so many different ways. We have also designed this rod so it can be attached with a lower straight handle, or our signature grip handle. The smooth action of this rod makes it really fun to work with, also using both hands on the handle.
Line and reel recommendation:
Nordic SW heads – 16 grams/247 grains
WF Shooter – 16 grams/247 grains
Short-cut heads – 16 grams/247 grains
Salmologic reel size no. 2